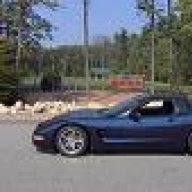 Joined

Jul 20, 2005
Messages

107
Location
Corvette

2000 Navy targa
---
There are black plastic hoods that surround the sides of the headlight assemblies you see in the raised position. When the lights are on, a lot of light comes thru the cracks at the top inner edges, easily seen from inside the car. It's not a terrible thing, but it does look a little Hokey (sorry Va Tech folks!) as far as fit and finish goes. The screws that hold these in place have cone shaped inside heads that auto center the pieces, so you can't shift them up tight and then tack down the screws down to correct it. Very flat inner edge screws of the same size might work, but they can't be too thick, so that they would hit the side of the hood and fender when retracting.

I tried electric tape, but it soon softened with the heat of the lights, and were "Blowing in the wind."

I know there is someone out there who came up with something clever to fill in the gaps and stop the chinks of light from coming out the sides.

Any ideas?

Best,

Bluemill


2000 Navy Targa, black tinted roof, polished aluminum wheels, 6 speed with C6 shifter, P-Zero Nero M&S tires, C6 Z-06 shocks, C5 Z-06 titanium exhaust, and air cleaner cover, cold air holes in fog light enclosures, smooth neck throttle body intake neck, HUD, black gut, all new foam in driver's seat. 79,966 miles. Very dependable car, as rugged as a Silverado, if it only had as nice an interior!!!