Hello to all the good people on this forum. I will start by saying that I absolutely LOVE Corvettes! I can't afford a C2 but I have a couple C3's that I adore. They are my therapy. Go for a ride and all my problems go away for a little while and I always come home with a smile on my face.
My first C3 is a 1975, white stingray that was rebuilt on a salvage title. She has lots of goodies, far from stock.
357 CID 4 bolt with forged rotating assembly, h-beam, dished pistons (boost)
Trickflow Aluminum Heads
Weiand 177 Supercharger
MSD 6A / MSD Billet Distributor (locked out advance for EFI)
Fitech EFI
Aluminum Flywheel
Kevlar Clutch
Hydraulic Clutch Conversion
Aluminum Radiator
Tremec 6 Speed
3.78 Rear Gear
All new poly urethane bushings / mounts
lots more stuff..
This car is scary at 8300 feet altitude, even more so down at 5000 feet. I can't imagine at sea level! The build has almost 500 miles on it so it's still breaking in basically and it hasn't been romped much really at all yet. The EFI is probably still learning, I wanted to get it dyno tuned but nobody around here wants to work on the fitech. It runs very good as a street car, no overheating when it's 100 outside, starts easy, idles good since the high lift cam doesn't have the overlap that would rob boost. Recently found out the running lights are intermittent so I have to track that down but the cop was nice and didn't ticket me.
Upgrades I am considering, suspension, driveshaft, some sort of methanol injection, serpentine belt system (cold belts are sometimes noisy at startup), air conditioning (just kidding LOL!)
I may change the fitech out for a holley EFI and put the fitech on my red 1976 corvette. The red one is all stock. Engine was rebuilt .030 over in the mid 90's and repainted then as well. I just got it recently as my next project car. Steel floor pan in this baby and I am considering a TCI 6 speed auto behind a LS motor built to make some very healthy numbers. Time will tell where I go with it, I may find a great deal on a pulled engine and go a different direction but one thing is sure, this one will be automatic as I love the torque multiplication and this one is more for straight line acceleration and street cruising.
One thing is true, resale red is also a cop magnet. The red one is stock and pretty tired so it's basically a slug right now but the cops give it way more attention than the white one with a blower lol.
Anyways here are some images of my girls.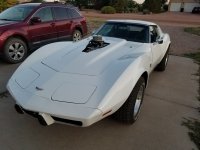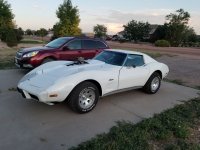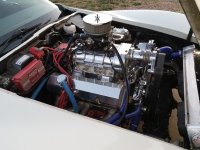 The red 1976 images I will post next from my phone.