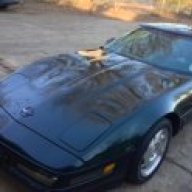 Joined

Jan 2, 2015
Messages

31
Location
Corvette

C4 1995 Corvette Base
1995 Corvette Base LT1.
Owned about 1 & ½ months. Little history that I know of so far: The last owner had it for 6 or 7 years and rarely drove it. It sat under a shed most of the time. I have found rat pills on the intake area and pulled about fifty Long-Leg spiders out of the outer part of the air filter. It appears that he jacked the car up with a floor-jack right under the fiber glass floor pan. And YES, it punched right through. So far this leaves me with very little confidence that the P/O properly maintained the Vette. And I over paid, so shoot me know!!!!
Here's my issue:
I took it out for its routine short drive to at least keep it moving, etc… until I have time to really dig into fixing this car up.
While granny driving, I notice a slight hesitation. So of course, I put my foot in it and Put-Put, Pop, Chug, the vroom it takes off. When I hit second I felt it hesitate for just a slit second.
I drove it around for a while to get it warmed up more, thinking maybe it was just cold. Same thing. Sitting in park, I give it ¼ throttle and it hesitates then revs.
I popped the hood and started looking for air leaks thinking it running too lean, but due to the time of night it was just a cursory look-over. I noticed that the cover plate atop the throttle body had about an inch of rubber gasket hanging out. I removed the plate and observed the gasket was torn in that outter area. I also notice very sticky dark amber oil/fuel under the gasket all in the area atop the throttle body.
Questions:
--Could the torn gasket be attributed to my Put-Put, Backfire (under hood, I think) and hesitation. i.e., is this my air leak?
--Is that sticky mess normal or is this a sign that the MAF and throttle body need a good cleaning?
--What is the plate covering? All I could see was a little square piece of metal down in a slot. What is that?
--And lastly, am I going down a rabbit whole? Is this the likely cause of the engine hesitation, or do I need to be looking elsewhere?
Ps, When I bought the car I drove it over a two hour trip home and it ran like a charm, I did not notice any hesitation just great acceleration, but I didn't dog on it either. It is likely that this car sat up for a long time and the P/O may have fibbed about driving once a week. He had several show trucks that he had covered and garaged. Those were likely his priority and passion, not the corvette.
Please, if you have any tips for me I am wide open. I have been reading a lot about this car, but this is my first corvette.