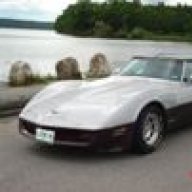 Joined

Jun 28, 2005
Messages

581
Location
Corvette

1982 silver/claret
Well it hasn't been the corvette year I was hoping for. Considering how long I have had the car I feel like a lot got done and I have new Goodrich TA's on it. And soon afterwards it started running poorly. I think it was a loose rocker arms, which Rick tightened last night and did the timing with the new harmonic balancer (yep more new parts!) Put in a new fan cluth as the other one was leaking. I think now its going to need a new camshaft and maybe more. Rick is doing to work on the rocker arms again.
As cautioned I am not going to ever get the money back on this car that I put into it, esp if I am looking at pulling the engine out. And I still haven't done anything with the interior (badly need seats) and still needs painting. And while I don't have to pay for labor, financially its still a rough time (my 8 yr old has Aspergers and I dont' work full time).
So now I am wondering ...what next? I feel like we have put some much into it that its stupid to give up. On the other hand...what if the tranny goes next?
Okay so all that was the bad and the ugly...here is the good...
Rick bought an old crossfire air cleaner to take apart and make 2 seperate ones and put in the K & N's. Still more work to do, but overall I like the look. I haven't driven it so I don't know what that means performance wise. I still have the original one should I want or need it.
While I was searching for air cleaners just now I found a set on ebay that includes a distibuter cover which I like, esp since the one mechanic I paid to work on my car put blue wires on it! Why?!!
I am still hopeful I can drive the car a few more times this year and then figure out what to do. Rick is itching to get to work on his '68 firebird restoration and since all the parts for that are new, I am pretty excited about that myself. The side of the garage were the firebird is is heated so I imagine once it gets cold we will head over there, which is fine with me.
Here are some before pictures and after