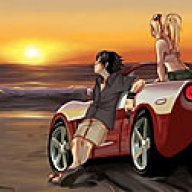 Site Administrator
Staff member
Administrator
Joined

Sep 16, 2000
Messages

13,790
Location
Corvette

1990 Corvette ZR-1
The 'Vette Z06 Goes Topless

For an extra $49,000, Genaddi Design Group says it can turn your Z06 into a high-powered droptop

by Alex McCall
ForbesAutos.com
December 27, 2006

Corvette enthusiasts who lament Chevrolet's decision not to offer its most potent model, the legendary Z06, as a convertible can now pay $49,000 to have Genaddi Design Group of Green Bay, Wis., chop the roof off of their 2006, 2007 or 2008 'Vette Z06.

Genaddi Design Group's convertible Corvette concoction is called the LSR Roadster. It looks pretty wild, with an open cabin, futuristic aluminum body panels, racing seats, larger wheels and wider tires. It features a throatier exhaust rumble, thanks to a MagnaFlow stainless-steel exhaust system.

Though it does sell the base Corvette as a convertible, Chevrolet does not plan to offer the higher-powered Z06 as a droptop, partly because the company found that removing the roof would increase weight by necessitating additional structural reinforcements and, despite those reinforcements, would still reduce torsional strength. Both of these factors would hamper this car's sole reason for being: to go really fast.

Mark Gerisch, designer and CEO of Genaddi Design Group, and his team figured out how to remove the roof of the Chevrolet Corvette Z06 while tripling the torsional rigidity. Asked how they achieved this feat, Gerisch said, "That's a trade secret." So secret, he claimed, that his refusal to share the how-to with GM led to their parting of ways on the project.

Orders for the LSR Roadster — whose $49,000 price does not include the cost of a Chevrolet Corvette Z06 — are steady, Gerisch said. He also predicts an overflow of business from owners of the well-received Ford GTX-1, a topless rework of the Ford GT that his company recently unveiled at the SEMA show in Las Vegas.