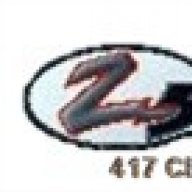 Joined

Jan 30, 2001
Messages

8,236
Location
Corvette

1987 Z51 Silver Coupe
Seeing a post vigman made in the '63-'67 forum...
...reminded me of what I saw today. :eyerole
I stopped by my stereo installer's shop today and what was sitting in the bay but a '53 (possibly '54 -- I can't tell :L) Corvette!
It was filthy, scratched, chipped, it had
human footprints!
all over it... I was told that the owner just didn't care and allowed just about anybody drive it (He gave it to a couple of gang-bangers to drive it to the shop the last time he had it there!). He has parked it on the
STREET!
for days at a time. The "whitewalls" were hardly that; they looked almost as if they were painted yellow. :eyerole
Wouldn't you love to meet this guy?


_ken

ad