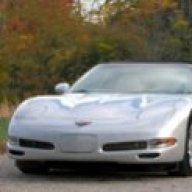 Joined

Jan 14, 2006
Messages

33
Location
Corvette

2000 Z51
As many of you have or will have, I had been suffering with turn signal issues for over a year. It was tolerable but annoying at first, then turned into a PITA, then became a safety issue. I scoured all the boards looking for a fix. I had already tried the WD-40 and even electronic contact cleaner, but nothing seemed to work and neither solved the problem. I dreaded removing the top of the dash which is the recommended procedure. Removing the radio was also said to be possible, if you have small hands. That option didn't excite me either.
While doing my research I did read some comments that stated a device built for LED tail lights solved this problem. I went to the website, read the description and was surprised that this simple device was available, affordable and was easy to install.
I called the phone listed, purchased the item, followed the instructions and in less than 30 minutes, my problem was solved. If you are having this same turn signal issue, I strongly urge you to order this part and if you can remove 4 easy to get to #15 Torx screws, you can fix this while having a cup of coffee.
Corvette Enhancements