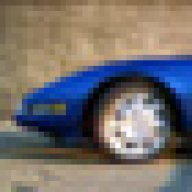 Joined

Nov 15, 2002
Messages

585
Location
Corvette

1993 Medium Quasar Blue Metallic Coupe
While flipping through the various Vette related magazines at Books-A-Million the other day, I ended up buying the August '07 issue mainly because I wanted to read at my leisure the article pertaining to the cover shot--the Vette, except for the chrome wheels and black interior, looks just like mine.
The
On The Cover
comments read like this:
"Fourth-Gen Corvettes have been declasse since President Bush ran for reelection; the first President Bush. Fortunately for us C4 geeks, all it takes is a dash of imagination and a pinch of performance savvy to transform one of these languid leftovers into high-speed haute cuisine."
Excuse me--that's the buildup to the so-so C4 article? WTF!?!! A Corvette person wrote that?! Declasse? Languid leftovers?
And no wonder that cover Vette looks a lot like mine..., the owner bought '93 body panels and put them on his '90 Vette.