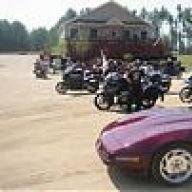 Joined

Jun 12, 2002
Messages

74
Location
Corvette

1993 Ruby Red Coupe
My roof panel started making horrible crunching and squealing noises in the front corners recently. Yesterday I removed the roof and discovered that the "hold down plate" that positions the roof in the windshield frame and accepts the bolt had loosened on both sides.

The noises were from the plate rubbing on the roof frame.

There is a large range of adjustment possible. I lubricated between the plate and the roof frame to minimize friction and screeching and left the plate loose enough so it could self align and put the roof back on.

The FSM does not indicate any alignment procedure, but from the diagram it looks like if I remove all the windshield trim there are holes through the mounting area, so that with the roof in place I can reach the bolt heads to tighten the hold down plate in position.

Can anyone confirm that for me before I start to take things apart?

Thanks in advance.