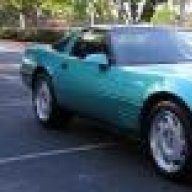 Joined

May 18, 2003
Messages

312
Location
Corvette

1991 Turquoise Metallic Coupe
Hello everyone. It's been a while since I posted here. Life has been up and down for me lately and haven't had much time to enjoy my Corvette. However, things have settled down a bit and now I am enjoying driving the 'Vette more and enjoying it with the wife.

My ride is a 1991 Corvette, L98, Automatic, 52k miles on it. The car is mildly modified with the usual stuff enthusiasts do to their rides. It has a K&N open top airbox and filter, TPIS TB Airfoil, and a Corsa catback exhaust. I have not dyno'd the car but based on known information, the car is most likely putting out 230-240 rwhp.

My plan is to go to the next level of modification. What I am after is to get more top end horsepower without resorting to a full on stroker kit or supercharger, while still being able to pass the stringent CA bi-annual emissions inspections/tests. I'll be the first to admit, I am not that knowledgeable when it comes to camshafts, cylinder heads, ignitions, etc., All I can do is read up on what others have done. I have done some research, reading articles, posts here in CAC, and spending a lot of time with one of the definitive TPI experts: TPIS website. Armed with this information, I would like to upgrade the usual suspects, intake and exhaust.

Intake: TPIS Big Mouth Lower Plenum, TPIS Large Tube Runners, TPIS 52mm throttle body.

Exhaust: TPIS Long Tube headers (complete with emissions hookups), HFS high flow catalytic coverter

I plan to tie this all together with a TPIS ZZ9 Hydraulic Roller Lifter camshaft with a Duration of 212/226 at .50, Gross lift of .483/.520, Lobe Seperation of 112, Re-programmed ECM, and ignition upgrade.

My questions are:
1) Should I upgrade to an aftermarket cylinder head? If so, what are your recommendations?
2) I know I need to upgrade the ignition. But which one?
3) Will all this take me to the 300-350 rwhp level?

I would greately appreciate any help you guys can give. Thanks.