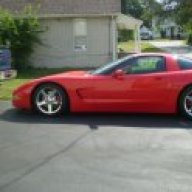 Joined

Jan 1, 2011
Messages

77
Location
Corvette

2004 Torch Red Coupe
This goes out to all of the Body Shop / Paint guys out there.
I think it's safe to say that the paint on my 04 is a Base Coat / Clear Coat simular to DuPont ChromaColor BC/CC ?

Reason I ask is, I removed the BSM's on my coupe. Passenger side looks perfect, Driver side not so good. Seems that at one time the original owner had some work done to the door and the shop who did it, did not remove the moulding before spraying. I now have a ghost outline/built up ridge of paint & clear where the moulding was. What I had plan on doing was wetsanding ( Oh BTW, I build, repair and restore guitars so I know all about spraying, wetsanding and buffing) starting with a 600 grit paper up to and including 2500 grit to remove the ridge and blend everything together, spray several coats of clear in the center of the door to build up the low spot, let it harden up and dry, wetsand the entire door and buff it out.

IMO this would be the logical approach but I'd like to hear from the Professionals on this !