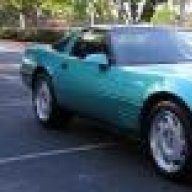 Joined

May 18, 2003
Messages

312
Location
Corvette

1991 Turquoise Metallic Coupe
Just got the Corsa L98 system installed on my 1991
Okay. Before, I had the Dynomax system w/ Y-pipe crossover. I thought those were not bad but definitely had resonance at 1700-2000 RPM.
But these Corsa's....wow! Awesome! They emit an exhaust growl that sounds like 60's Muscle car with a stock but healthy exhaust system. Especially at tip-in. Those of you who remember the movie BULLIT with Steve McQueen, the way his Mustang's exhaust sounded in the movie, that's about it right there! It's barely louder than stock at idle, definitely louder at WOT, but they are near whisper quiet at cruise at just about ANY RPM! Gone is any sign of resonance. Period. They look great too! The fit was perfect and they really make the car look aggressive from behind. It IS possible to have your cake and eat it too! At least with the Corsa exhaust.

Those who are holding back or wondering which exhaust to get on their C4L98's, I believe the Corsa's are the best overall. It took Corsa long enough!