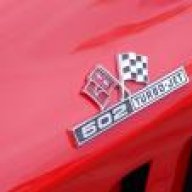 Joined

May 28, 2004
Messages

2,410
Location
Corvette

65 BB 502 Cp /MSD ATOMIC EFI/ 2009-HUMMER H2
I have a set of Sweet Thunder Side Stainless Steel pipes on my 65. They are the 2 1/4" internal Baffel Type. They were purchased with out the front section or the pipe that follows the side cover forward curve towards the exhaust manifold. In other words, just a straight section of Chambered Pipe
I had a custom pipe assembly made up to fit for the Sanderson Block Hugger Headers that are on my 502. They are loud..!!! Over the past two years it's started to bother me as I think they are just to loud. When I try and creap down some of the local steets in the stealth mode ...it's like "Peter Built Truck " with no exhaust.
So..I have decided to take them off and replace them with a set of "Allen's" Side pipes.I ordered a set of Alumin-ized Pipes and four sections of front pipe that can be custom fabbed to my Sanderson Headers.
These pipes should be less obnoxious as there are more internal baffle sections then the Sweet Thunders. And ..there Aluminum and won't ring like the Stainless Steel Thunders.
So if anyone might be interested in the Sweet Thunders...see my listing in the C1-C2 for sale section.