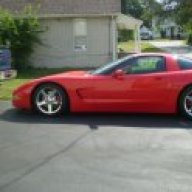 Joined

Jan 1, 2011
Messages

77
Location
Corvette

2004 Torch Red Coupe
:cry
As reported by David Shiel from the C5 Section of the Corvette Forum:
" It is with a very great sense of personal loss that I share this sad news with all of his friends here on the forum.

I just spoke with Sam's wife, Debbie. According to her, he died suddenly of a massive coronary while at work as a consultant at the nuclear power plant, I believe it was the Oconee plant here in SC.

Sam Bailey, Dadaroo to us, like many others here, devoted countless hours to helping the less informed of us. He was both an electrical and nuclear engineer. Since he lived so close, I spent time with him working on cars and grew fond of his wit and dry sense of humor. His loss is truly very personal and saddening. In addition to his Corvette, he had a pristine Pantera and a number of other cars. An Irishman through and through, Sam liked a beer and a good cigar now and then!
Sam leaves behind his wife Debbie and his beloved 18-year-old daughter who will graduate from high school as Class Valedictorian in absentia Friday.
Sam's funeral will be held at Ft. Jackson on Saturday at 1100. I expect his obit to be in the Columbia, SC newspaper.
If you wish, please post to other forums. Sam will be missed.
David "