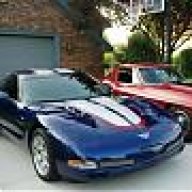 Joined

Jun 7, 2005
Messages

763
Location
Corvette

67 427 tripower,68 427 tripower,04 Z16, 62 340hp
My 68's VIN is #308, so it was built on the 1st or 2nd day of the production. I have a few questions..

1) Did any of the early production 68s use wheel code AG (left over from 67) my car has 4 AG code wheels??

2) I was told that 68 BB motors came w/ orange valve covers, and then the dealers switched them to the chrome covers, is this true??

3) Also was told by the same person that I should have had an expansion tank on my car ( I dont have one ) Where any 68 BB cars equiped w/ expansion tanks??