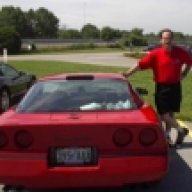 Joined

Oct 30, 2001
Messages

2,273
Location
Corvette

1986 Bright Red Coupe
Way back when, I mentioned that the passenger side power door lock wouldn't lock all the way by the switch- the 'orange' would be gone, and it would look locked, but you could still open it from the outside (or sometimes just half-open the door). If you manually pushed the lock, it moved another mm or two and all was fine.
Had the door apart today to fix a flapping trim strip and decided to take a look at it. Almost looked like the actuator wasn't pulling the lock bars far enough. I noticed, however, that the arm from the actuator snaps into a small metal swivel plate (technical term
) which has the rod going to the lock mechanism itself also attached. This plate has two holes in it, a lower and an upper. The lower hole is where the actuator rod was attached. On a hunch, I moved it to the upper hole (involves sliding out the rod end and pushing out a plastic "keeper" that's in the hole). Now works like a champ! My service manual doesn't appear to go into enough detail to explain the plate, but the lock works so I'm not complaining...
[RICHR]