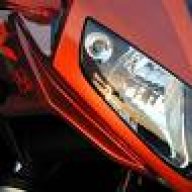 Joined

Oct 25, 2002
Messages

2,634
Location
Corvette

2002 Yellow Z06 (sold); 1999 Pewter FRC (sold)
If you are tired of having your C5 decide that you really didn't want to shift to 2nd, but instead 4th would be much better, this little inexpensive device will solve your problem.
If I can do this by myself, anybody can.
(note, this was performed on a z06 but would be very similar for other c5's )
Items needed:
- 2 rhino ramps
(if you wish to use a hydraulic jack and jackstands, that will work too)
- 2 2x10's, about 36 inches long
- 2 pieces of wood to chock the front wheels
- 5/16 open socket to disconnect the negative battery cable
- CAGS defeat device from ecklers (18.99 plus 5.99 shipping to GA)
http://www.ecklers.com/product.asp?pf%5Fid=33993&dept%5Fid=1753&mscssid=RKUWGPUDXMS92L0B00N0SM2EPT1T02F5
- 2 bathmats (or possibly towels) to put under rhino ramps to keep them from sliding around on the concrete
- creeper (recommended but not necessary)
This method uses rhino ramps. (Pep Boys, approx $25)
1. Place each of the 2x10's lengthwise immediately behind the back wheels. Put down the bathmats immediately behind the boards and place the rhino ramps on the mats so they won't slip.
2. roll the car forward a few inches, then back it onto the boards.
When the back wheels are all the way on the boards, but not yet on the ramps, get out and check the ramps, making necessary adjustments so they
will be centered under the wheels.
click to enlarge image