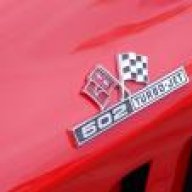 Joined

May 28, 2004
Messages

2,410
Location
Corvette

65 BB 502 Cp /MSD ATOMIC EFI/ 2009-HUMMER H2
I have done quite a bit of research on Corvette C-2 A/C Systems. But I got to tell you this one is the best I think. I was able to engineer up what I wanted with the company.....
They also make C-1 & C-3 Kits
Hot Rod Air
http://www.hotrodair.com/index.html
There is a new web page that will be posted soon.
What's the best thing about there Kit.? Well for one.. it uses the original location for the heater lines on the firewall.!! That's what I liked about it. I don't have to cut the firewall or drill out any holes.
Plus, I ordered SS Lines and a Chrome Sanden Compressor and they even will supply a March Bracket to work with my exsisting March Surpentine set up. Seems they work very closely with March Pulleyes.
I ordered the kit today after speaking with David Stutts the owner of Hot Rod Air.
I also ordered a fan kit for the condenser and a Chrome Dryer..all kinds of Bling.
I also ordered a seperate contol system for the unit. This will give me the option of not having to use the standard heater controls as A/C controls. There's alot more that I ordered.
The kit will be in sometime next week and I'll take some pic's of the kit pieces and also photo document the install here so you can follow along.
Before you buy any other A/C kit... Check out Hot Rod Air...
More to come.