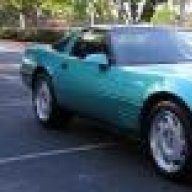 Joined

May 18, 2003
Messages

312
Location
Corvette

1991 Turquoise Metallic Coupe
This is really Two questions in one post.

1) I noticed for quite some time now that my Corvette has a slight case of bump-steer. It usually happens at low speed (parking lot) when I go over a speed bump at the rear axle, the steering wheel jerks a bit.
The other day, I noticed it going around a very bumpy corner at about 35 mph.
Is this normal for a 1991 C4?
Mine has the FX3 shocks and 51k miles. No modifications to the suspension nor chassis.
2) Pinging. After doing a search on the subject, I failed to get a definitive answer. I ALWAYS use the highest octane available in my area: 91 Octane. I buy mine from the Unocal 76 & Chevron stations usually.
Ever since I got my '91 in 2003, I noticed the engine pings lightly at acceleration, especially on a hot day. It doesn't sound like loud marbles under the hood. I can only characterise best as light pinging. I'll bet most people won't even hear it but I can because I listen to such things.
It does not ping under hard acceleration or WOT.
Again, is this normal for a 1991 L98?
Thanks for all you help.