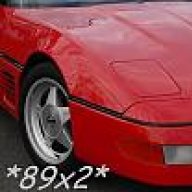 Joined

Feb 18, 2002
Messages

10,357
Location
...Is that me baby or just a brillant
(e)
disguise???
Sorry to coin a line (sorta) from Springsteen...
[FONT=Verdana, Arial, Helvetica, sans-serif]Vehicle Description [/FONT]

This is a 1989 Brillanté
This car is the owner's personal demo, and was produced by the "Classic" Automotive styling center in Fountain Valley, CA.
This is not a kit car
It is a hand-built, Euro-styled conversion of a 1989 Corvette convertible, including functional side scoops, genuine leather covered interior appointments, burled wood dash and console panels, Hofco alarm, and a Rinspeed push-button steering wheel that controls the Alpine in-dash compact disc player. This Brillanté also includes a K-40 radar detector. The Euro-styled wheels and low profile tires compliment the overall appearance and handling of this limited production sports car. Only 10 Brillantés were produced, and only a select few will ever be able to own one of these classics This car has never been titled, and still has the original M.S.O. At the Kruse International Auto Auction in Auburn Springs, a bid of $42,000 was refused by the owner.
http://cgi.ebay.com/ebaymotors/Chev...95QQihZ018QQcategoryZ6168QQrdZ1QQcmdZViewItem