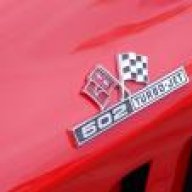 Joined

May 28, 2004
Messages

2,410
Location
Corvette

65 BB 502 Cp /MSD ATOMIC EFI/ 2009-HUMMER H2
A week or so ago I ordered the Hot Rod Air A/C Kit for my 65 502.
This stated a lively back and forth..see the 1st post below.
http://www.corvetteactioncenter.com/forums/showthread.php?t=92624
As promised ..I will be photo documenting the install. Today I received the first shipment from HRA . They sent me the main components and some custom items I will be reviewing for usage. My install is on the custom side so David from HRA is working with me in regards to different options from his inventory.
Still to come is the chromed Compressor and the custom bracket from March Pulleys to mate with my exsisting March set up as well as a few other parts.
One good judge of a Mfg is how he packs and ships his equipment. HRA's box was packed very well and all parts were wraped and packed well as you can see in the pic's. The Box was Wire stapled shut so it wouldn't come apart. The box arrived via UPS with no damage.
Below are a few pic's of the product. Ther are two sets of Vacuum operating controls. I haven't decided which I'm going to use yet. Which ever I don't use ..David will except back for a full credit.
More to come..
The Box as it arrived
The Main Unit...Sweet
Controls
Some Of the Goodies..Not all Shown
http://www.corvetteactioncenter.com/forums/showthread.php?t=92624
http://www.corvetteactioncenter.com/forums/showthread.php?t=92624